John in an earlier post suggested a way to reduce the effect of cable capacitance when the gain pot is located off-board:
viewtopic.php?f=7&t=753&start=53
I tested a driven shield approach and drew up the schematic.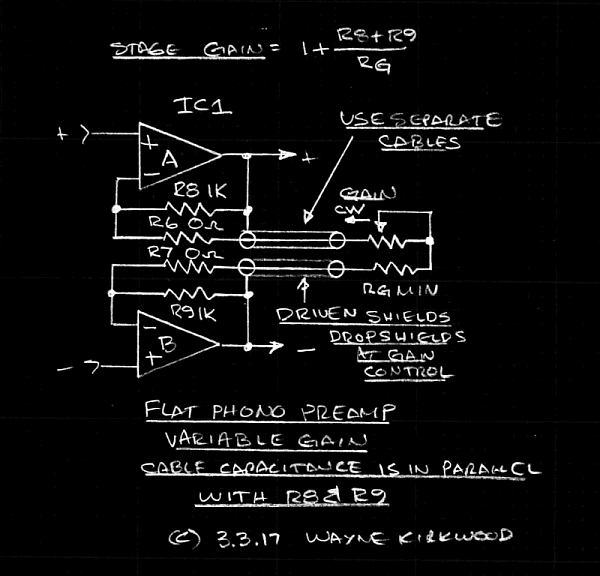 Flat Phono Preamp (Instrumentation Preamp) with Variable Gain Using Driven Shields to Reduce the Effect of Cable Capacitance.
The summing nodes at the inverting inputs of IC1 are very, very critical.
Any minute stray capacitance imbalance from either inverting input to ground is disastrous to high frequency common mode rejection.
Capacitance appearing across Rg (which includes those referenced to ground) can also cause HF response peaking.
See: That Corporation's "Analog Secrets Your Mother Never Told You" pdf pages 16-18
http://www.thatcorp.com/datashts/Analog ... ld_You.pdf
Avoid stray capacitance.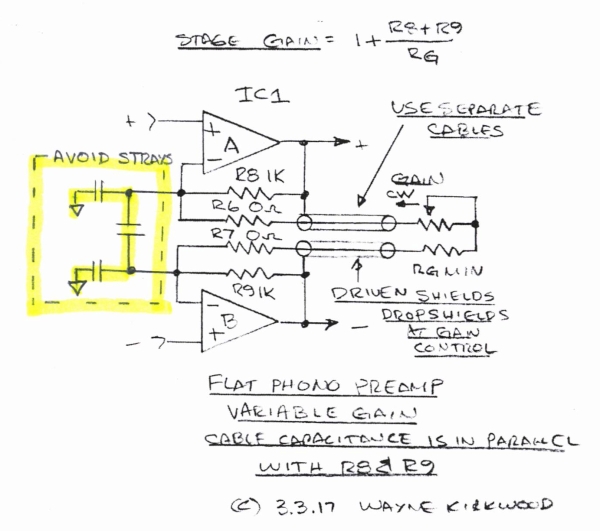 Flat Phono Preamp (Instrumentation Preamp). Avoid Stray Capacitance to Ground in the Gain Leads.
Because of cable capacitance a shielded cable with a grounded screen cannot be used for remote gain leads to a front panel pot.
When the cable shields are driven by the instrumentation amp outputs the effect of the unwanted capacitance is that it appears harmlessly in parallel with R8 and R9.
The effectiveness of the shields are the same as if they were grounded due to the low source impedance of the op amp outputs driving them.
Any small capacitance across Rg can also cause HF response peaking.
To avoid a shunt capacitance from appearing across Rg two separately shielded cables are required.
DO NOT use two conductor shielded cable and share a shield: Each shield needs to be driven by its respective output.
When constructing a unit with remote gain control its still important to keep the lead length as short as possible and the entire unit shielded in a metal enclosure.
Tests show that with careful lead dress using the approach shown in the schematic common mode rejection and low noise can be maintained.
My recommendation is that the gain pot be a stepped switch tapered reverse log.
The gain equation for the instrumentation amp is G = 1+[(R8+R9)/Rg]
Note that if THAT1240s are used after IC1 they provide an additional 6 dB gain.