I've discovered an interesting connection for the THAT1646 that lends itself to applications that it was not originally intended for. What I've found is a way to make the outputs swing together rather than in anti-polarity.
I contacted THAT with a question as to how one would float the outputs up to some common mode DC potential. An example where this would be useful is an A/D driver where the inputs typical bias to 2.5V. (This particular application may be the subject of another thread someday.) Gary Hebert explained how this might be done using the OutSmarts(r) common mode inputs.
The outputs of the 1646 normally swing in opposite directions to provide differential line driving capability. It was explained to me that by coupling the sense lines together (pins 2 and 7) a common mode DC reference can be used to bias each output up to 2.5V. Drive at pin 4, the "differential" input, called differential because it produces a differential output, still causes the outputs to operate in anti-polarity. Drive at pin 4 causes one output to "yen" while the other one "yangs."
There are some applications where it's desirable to use the 1646's high-current outputs to drive a single-ended load. As normally applied the 1646's outputs cannot be made to swing together. Or can they? Then it hit me: Why not drive pins 2 and 7 with signal, with the "differential" input grounded, to make them swing together in tandem? We'll call this "common mode" output drive, or Vcm drive. Once you're able to do this the outputs can be current-boosted by a parallel connection. They both "yen" and "yang" together.
Here's the basic tested circuit: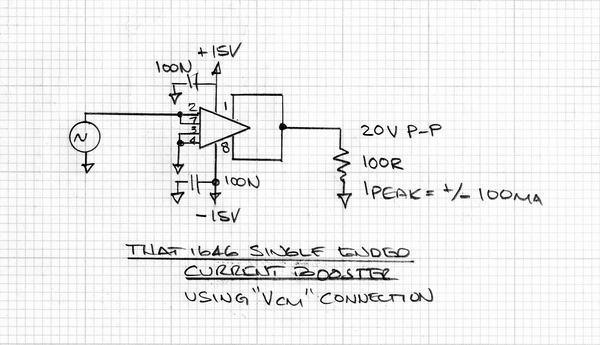 It can drive 20 volts peak-to-peak into 100 ohms. That's 200 mA p-p! The 1646 barely breaks a sweat.
Rather than measure the distortion and performance of this stage I decided to drive a difficult transformer load and measure that. Roger Foote and I have played around with driving transformers differentially and they work great.
Here's a differential drive circuit Roger's used in the stereo Pico Compressor: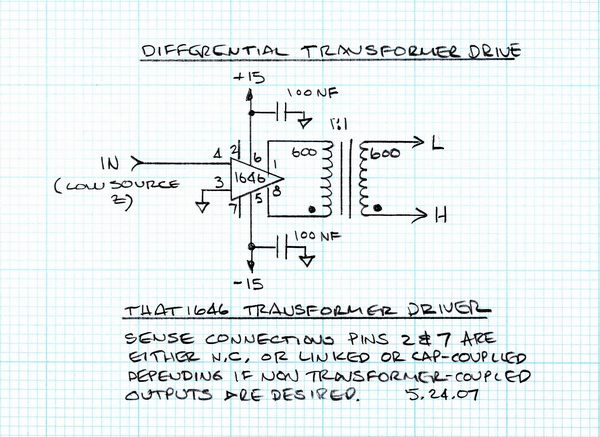 I decided to try single-ended drive with the new current-boosted topology and to make it really difficult on the 1646 using a 150 ohm primary. Here are the results: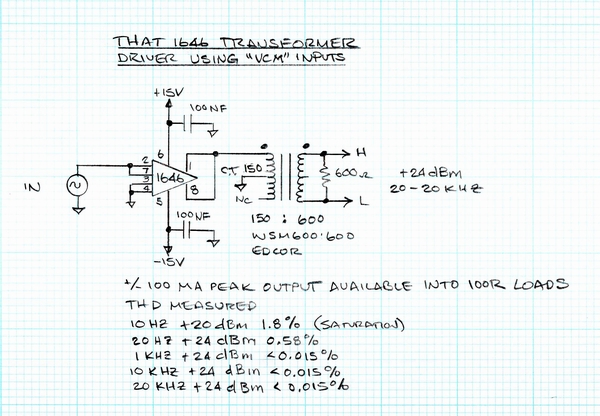 The circuit sounds really good with the Edcor WSM600:600.
Now you'll notice that the opportunity to drive the transformer in push-pull exists. That circuit will use two 1646s in a current-boosted differential configuration. I should be able to get approx +30 dBm from +/- 15V supplies. I hope to have that one going in a little bit.
I want to thank Gary Hebert at THAT for his help in applying the 1646 in a way it was never intended. It's a very versatile part.