One of the limitations of bootstrapping common op amps is the output current limitation. You can get the high voltage swing but not enough current to deliver it into a lower impedance load.
These posts were split from the "Bootstrapped Op Amp Articles" thread found here: https://www.proaudiodesignforum.com/for ... f=12&t=699
This circuit fragment can be used as a starting point to combine voltage-bootstrapping with current-boosting. By adding two diodes to the voltage bootstrap voltage dividers, two additional transistors and emitter resistors, a minimum component count line amp can, with ±30V supplies, produce +27 dBu into 600Ω. Due to voltage-bootstrapping the 5534 only sees +/-20V supplies.
Placing links in the "B" position connects the output collectors to the bootstrap rails to shift some of the output dissipation to the bootstrap transistors. For higher-current outputs and >60V Vcc-Vee, BD139/140s mounted on a heatsink are a better option. At ±32V, with the values shown, the 5534 sees 42V. Scaling the 4K7s higher reduce op amp supply voltage. An OPA604, with its 48V maximum operating voltage, is also worth trying in this socket.
This circuit is a starting point for someone interested in pursuing it. I tested this with ZTX851/951 pairs and the THD at full output is pretty respectable. At lower levels the THD is essentially the op amp residual. Some additional tweaking can be performed and your mileage may vary.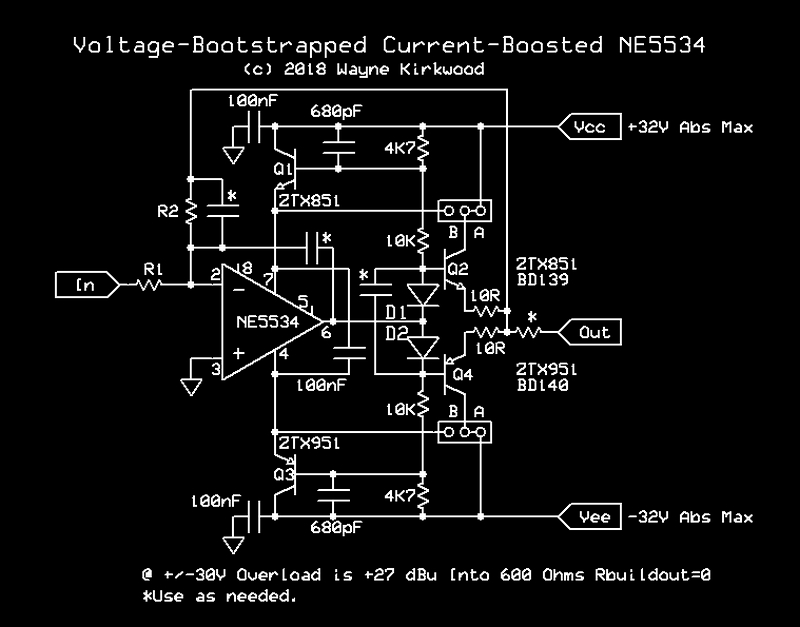 Voltage-bootstrapped current-boosted NE5534 swinging op amp for audio line driver providing +27 dBu into 600Ω
Overload=+27 dBu into 600Ω with ±30V supplies. 17.4Vrms; 48V P-P, 500 mW.