I was contacted today by someone wanting to build the MS matrix. They had the simple question: "How do I add a width control?"
The obvious answer of course is to vary the ratio of mid to side between the encoder and decoder. If there's already a processor in that insert just use it's gain trim.
But what if I just want to hook up a pot to the board for a Width Control? Where?
Turns out it's pretty easy. I'll draw a schematic and post it. For now let's use the original block diagram.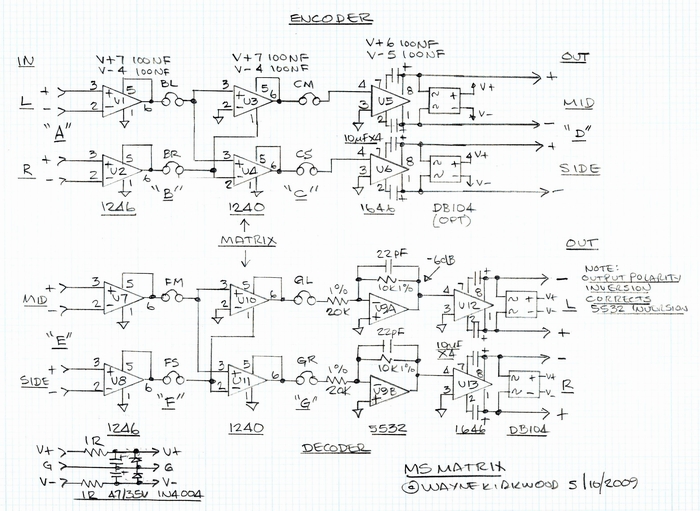 To make the board into a variable width circuit do the following:
Use the decoder as your encoder.
The Left and Right Inputs are at "E." The PC board point marked "GL" (G Left) becomes "GM" or G Mid. "GR" becomes "GS" or G Side.
Add a two section 10K linear pot at insert point "G."
Wire the pot so that at CW rotation mid is at full, side attenuated. Full CW rotation is zero width (Mono), full CCW is full Side.
Take the output of the "Encoder," which is Mid and Side and feed that into the "Decoder" inputs at point "A."
Why the encoder/decoder role change? Because U9 is there to provide a buffer for the pot.
The Width-controlled Left and Right outputs are now taken from point "D."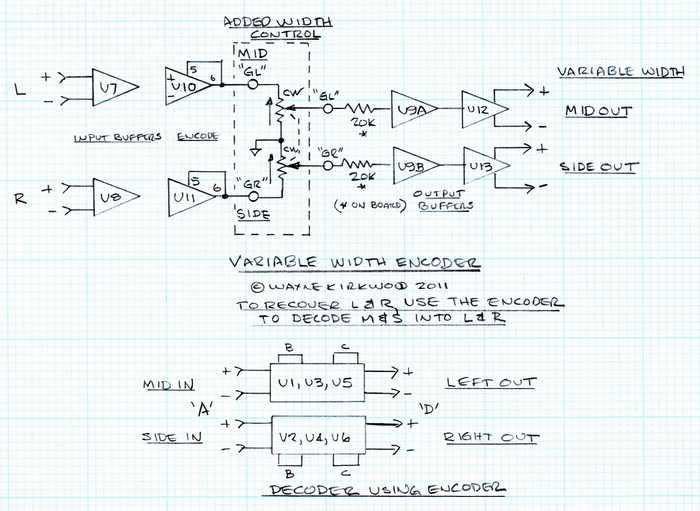 MS with variable width added.
Here's a short demo of the variable width control:
http://www.ka-electronics.com/content/M ... a_Live.mp3
(3.5 MB)