In this thread
JR provided us copies of his P10 and P100 phono preamps. In the thread I mention that I'm interested in building a flat preamp, without RIAA equalization, to experiment with declicking prior to RIAA equalization in software.
Update 9/5/2015: The final construction information, including schematics, circuit description parts list and board stuffing diagrams are here: https://www.proaudiodesignforum.com/for ... ?f=7&t=753
Update 8/17/2015: The current schematic for the RIAA EQ/Monitor Switcher can be found here: https://www.proaudiodesignforum.com/for ... &start=164 and the flat balanced input/balanced output moving magnet phono preamp is here: https://www.proaudiodesignforum.com/for ... &start=155
The following is a description of the original FET-based front-end:
I built a flat phono preamp based on the P10 using a 2SK389 dual FET and a THAT 1240: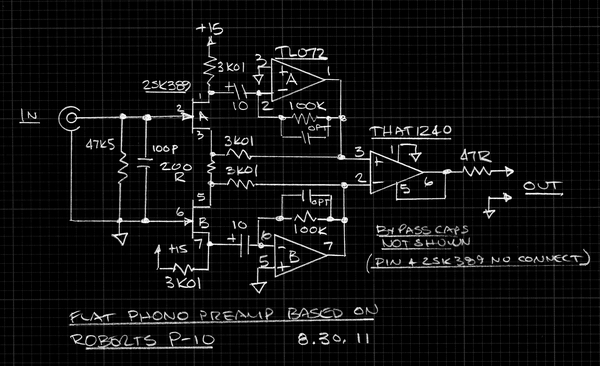 Flat Phono Preamp using 2SK389 based on Roberts P10 Front End
A large printable copy here: https://www.ka-electronics.com/images/j ... _large.JPG
Very nice THD performance: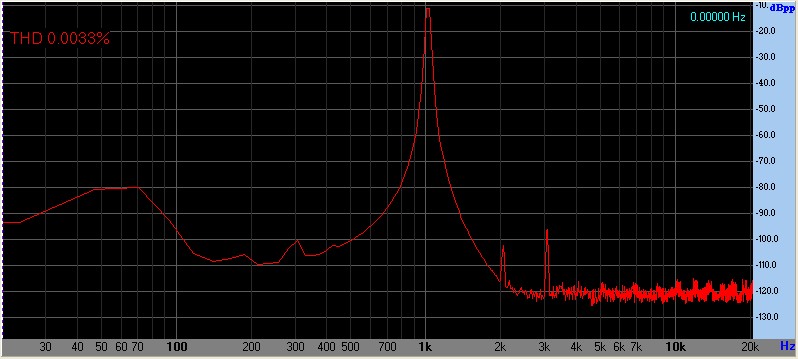 Most of the THD is generator and the output bears the generator's THD signature. I experimented with different op amps and the TL072 performed as well, if not slightly better, than an OPA2604. The optional Cc may be required for op amps having higher bandwidth. For the OPA2604 I used 10 pF to prevent oscillation.
BTW you don't have to use dual FETs. I just had some. The P10 used the PF5301:
http://www.linearsystems.com/datasheets/PF5301.pdf
JR - Did you have a filter on the drain loads where they pull-up to +15?